Born on the 22nd May 1859, Sir Arthur Conan Doyle was an extremely prolific British writer who's best known for creating a certain deerstalker-wearing London-based super sleuth that we'll speak about later in this piece. He was, however, responsible for many more novels and short stories crossing a number of different literary genres. Here we look at the best books penned by the great man himself with links to our free Sir Arthur Conan Doyle Audio Books.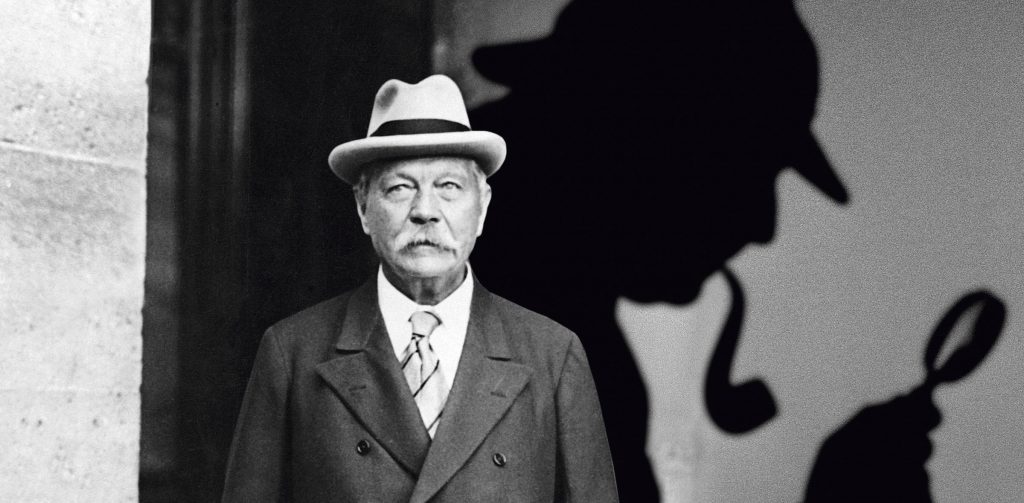 The first of Conan Doyle's forays into the world of science fiction on our list is The Lost World, which was first published back in 1912. It tells the story of Professor Challenger's expedition to a remote area of the Amazon basin where prehistoric creatures have survived to the current day. If Jurassic Park by Michael Crichton is something you enjoyed, then you'll love this seminal work that gave birth to an entire genre of literature and film.
Back in the 1920s, a collection of photographs reporting to provide evidence of real fairies at the end of the garden captured the imagination of the world. The Coming of the Fairies documents this phenomenon, retelling the stories behind the photographs and their implications to our very existence that were debated at length by people back then. Whether you'll be a believer by the time you've finished the book is up to you, but we're sure that you'll have a magical time reading it!
No list of Arthur Conan Doyle books would be complete without at least one appearance from the great Sherlock Holmes. He appears in A Study in Scarlet where he first meets his soon-to-be trusted cohort Dr Watson who's returning from the war in Afghanistan to rest and recuperate after nearly succumbing to his injuries. After discovering that Holmes is the world's first consulting detective, they embark on a quest to solve the gruesome murder of an American that's not as clear cut as it first appears. The rest is quite literally academic, as Holmes uses his exceptional powers of reasoning to get to identify the culprit. After reading this one, we're sure you'll want to read the rest of the adventures of Holmes and Watson.
Featuring two tales; 'Nigel' and 'The White Company', this book carries the name of the latter and it's one that Conan Doyle himself deemed to be one of his finest. Both stories are set in the Hundred Years War and follow the life of one of the main protagonists – Sir Nigel Loring – as he struggles to survive during the major 14th-century conflict against the French. If it's an epic saga you're after this novel is one that will certainly not disappoint.
Next, Conan Doyle takes us into the earth-apocalypse genre of literature, as this novel – the Poison Belt – allows the reader to once again cross path with the preeminent Professor Challenger. Tasked with saving what seems to be an ultimately doomed human race from a massive cloud of poison gas in space, Challenger resolves to protect those he loves by inviting them to his home and making everyone wear oxygen masks. The cloud does eventually arrive, but is it a planet-killer? You'll have to read every one of its 200 pages to find out.
Combining elements of the supernatural and an expeditionary mission to the arctic, The Captain of the Polestar recounts a sea-bound tale where Nicholas Craigie – the captain of the aforementioned ship – unexpectedly orders that the anchor is dropped for no apparent reason. The crew become unsettled as they know that they could be trapped by deadly ice at any point and when ghosts start appearing to various people on board, things get awfully spooky. This page-turner is a story that will appeal to many and one that deserves to be in Conan-Doyle's top 10.
A change of pace now with The Doings of Raffles Haw, which is a story that describes the poverty-stricken life of Robert McIntyre and sibling Laura. After their father loses everything, including his mind, they feel like they've nowhere left to turn….that is until the arrival of new neighbour – Raffles Haw – an eccentric and seemingly generous man. As the tale unfolds, it appears that Haw's motives aren't as pure as they might be and the reader is treated to lashings of subterfuge and intrigue. This book's one you won't want to put down.
The penultimate entry on our list of top 10 Conan Doyle books is one that shows the thoughtful side of the man, as he moves away from his fictional roots to raise awareness of the humanitarian atrocities that were occurring in the free state of Congo at the time. Conan Doyle delves deep into the events that saw Africans enslaved in their thousands to do the bidding of the country's owner Leopold II of Belgium in an early version of an exposé. This focus on real-world events also provides an insight into the state of the world and attitudes in the early 20th century.
We have saved perhaps the most notable of this author's work until last, as The Hound of the Baskervilles sees the intrepid Holmes and Watson on the trail of a murderer who's inspired by a legendary supernatural creature that's reported to roam the hills of Dartmoor in England's West Country. This work by Conan Doyle was subsequently made into a film and enjoyed by millions across the world and is undoubtedly his most successful work. We're not going to give any more of the story away at this point though, suffice to say that you shouldn't read it in the house alone.
So that concludes our list of top 10 Sir Arthur Conan Doyle books for your delectation. There is much to work your way through above and we hope that you enjoy every single page. We recommend reading them next to an open fire with a glass of wine for maximum enjoyment.
Check back with us soon for more of the best from the world of literature.