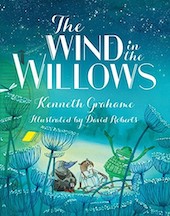 Over the festive period there's usually lots of food and more than one or two sleepy afternoons, so it's a great time of year to get into a good book. So, with the holidays in mind, our top 10 books for kids list features the very best in kids novels and there isn't a Harry Potter book in sight.
There are plenty of traditional kids classics in our list, but one or two modern classics too, so if you're in the mood for spinning a yarn with the family around an open fire, why not look at some of the books we've picked? There's more than a few titles here that will have the kids hanging on your every word.
We start with an enchanting story about Wilbur the farmyard pig and the relationship he has with a barn spider that goes by the name of Charlotte. When word gets out that Wilbur is in danger of ending up on the farmer's plate, Charlotte does everything she can to save him.
Without wanting to give too much away, she hatches a plan that involves getting creative with web design to persuade the farmer to spare Wilbur. You'll have to read it cover to cover to see if it's a plan that worked. A fabulous tale that deserves its place here.
Winnie the Pooh is a bear that loves honey and as one of the best loved characters in history, this magical by A.A.Milne novel follows him and his woodland pals as they set out on a quest to find Eeyore the donkey's missing tail. 
As you can imagine a lot happens along the way that even has Christopher Robin in some peril, but it's all in a day's work for the inhabitants of Hundred Acre Wood and readers get to enjoy a real page turner that truly warms the heart.
Next we look at a classic from one of the greats of children's literature, Roald Dahl. The story follows a little girl with many hidden talents and special powers that has possibly the worst parents going. They're rude, money-grabbing and don't seem to care too much about Matilda's welfare, but Matilda is more than capable of looking after herself.
The fun starts when Matilda crosses paths with a school bully who also happens to be a teacher called Miss Trunchbull. Terrorizing everyone in the class every day, it's down to Matilda to teach this bully a lesson and Trunchbull gets much more than she bargained for. A wonderful read for adults and children alike.
A tale of fantasy is the subject of our next pick with Bridge to Terabithia following the lives of Jess Aarons and Leslie Burke, two 11 year old friends. Both are struggling at school and invent an imaginary place called…you guessed it…Terabithia where they can escape to and forget their problems.
Dealing with childhood, friendship and more than a touch of adventure, it's a book that sees Leslie and Jessie become King and Queen of this make-believe world that's inhabited by many weird and wonderful creatures. A wonderful read and a great way to spend a relaxing afternoon.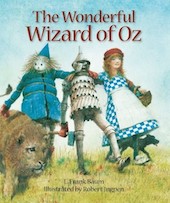 Another well-known classic of the children's genre is the Wonderful Wizard of Oz by L. Frank Baum which is a novel that sees Dorothy and Toto get swept up by a tornado and land in a strange new land. Whilst travelling along the yellow brick road, Dorothy meets a number of interesting friends, each of whom have a reason to come along as she journeys to the Emerald City in an attempt to get home. 
With talking lions, a tin man, a wicked witch and more than a munchkin or two, this novel has all the ingredients of an amazing read. Even if you've read it already, it's a great one to revisit in our opinion.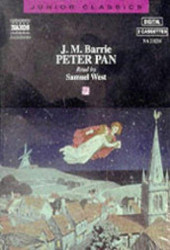 From one classic to another now as we look at Peter Pan by J.M. Barrie that centres around a young boy who never grew up. Did we mention that he can also fly? Well, these are the goings on in Neverland where Peter hangs out with his gang, the Lost Boys.
Another rich tale with incredible characters that include Captain Hook, mermaids, fairies and a crocodile that ticks as it walks. Peter Pan is one that very much belongs amongst the best.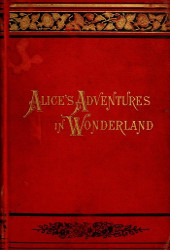 It seems that the classics keep coming as Lewis Carroll's amazing tale Alice in Wonderland is the next to feature on our list. Alice is a young girl who finds herself in a strange new world after falling asleep in the meadow near her home. Following the White Rabbit down the hole, Alice's path is crossed by a variety of peculiar characters.
The Mad Hatter, the Cheshire Cat and the evil Queen of Hearts are just some of the larger-than-life characters that add so much colour to this magical tale. It simply had to feature on the top 10 list of kid's books.
The fantasy theme continues with our next entry, the Lion the Witch and the Wardrobe by C.S.Lewis that follows a group of 4 siblings that are sent to the countryside during the mass evacuation during World War Two. Exploring their new temporary home, the tale takes a funny turn when Lucy, the youngest of the group, finds a mysterious wardrobe.
Looking inside, rather than finding the back of the wardrobe, as you would expect, it turns out to be a door to another world called Narnia. After meeting Mr Tumnus, a half man-half goat creature, she and her siblings encounter an incredible journey and battle an evil White Witch who's turned Narnia into a perpetual winter. A fantastic read with action on every page.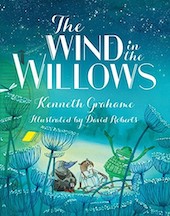 The last of the major classics on our list is Wind in the Willows by Kenneth Grahame that features the beloved characters that are Mole, Rat, Toad, Badger and their woodland friends. Whilst living their standard sedate lives, Toad of Toad Hall comes onto the scene and chaos ensues.
The tale of these loveable english woodland inhabitants is certainly made more colourful by Mr Toad – who has more money than sense – and they all work together to try and help him out of the bother he gets himself into. A brilliantly written story that's a joy to read.
We've saved a space at the end of our list for a more modern tale that involves no fantasy or magical powers. It follows Greg, an 11 year old school boy who's finding middle school tough, with everyone in his year being bigger, taller and meaner than he is.
The story is written through Greg's diary and tells you all about the hazards of growing up before it feels that you're quite ready to. Told in a funny and heart-warming way, complete with accompanying doodles, you'll enjoy this one from start to finish.
So, we come to the end of our top 10 books for kids. There's a lot of adventure and fun involved amongst the books we've chosen and enough to keep you going well into 2021. We hope that you have fun working your way through these titles and that there are one or two children in your lives that get to enjoy these classics for the first time.
If you enjoyed these books then you can find more free popular children's audiobooks and ebooks at digitalbook.io.
Also, be sure to check out this blog post for more top children's titles: 10 great children's books
*Digitalbook is a participant in the Amazon Services LLC Associates Program, an affiliate advertising program designed to provide a means for sites to earn advertising fees by advertising and linking to the Amazon LLC marketplaces.